Business Services….
Interior Landscaping and Floral Design Services
Riverside by Reynebeau Floral provides services to decorate your office with lush green plants and flowers.
Floral Gift Programs
Flowers make a statement of appreciation to your employees. We help companies provide flowers to staff who are celebratingweddings, the birth of a child, retirement or a promotion. Flowers also send a comforting message for employees experiencing bereavement or illness.
We have experts on staff to help you create and manage a floral gift program for your employees.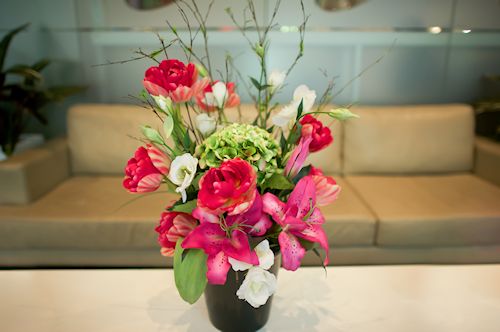 Special Event Decorations
We can assist you in planning the décor of your event, including creating an overall theme and designing original decorations and party favors.
Holiday Décor
Our designers are experts in creating an atmosphere of holiday magic. Choose to implement all or part of our program for the holidays. Our services include: tree-trimming services, holiday party decorations and floral gift creation.
Interior Office Design
Become the talk of the town! Riverside by Reynebeau Floral can help you add beauty to your interior office environment with fresh flowers or seasonal blooming plants. You can create a standing order, which includes schedule deliveries and set up of floral arrangements at your business.
We sell or rent green and silk plants for work environments. Our interior office design services are hassle-free. We handle selection, installation and maintenance of your floral arrangements.
Add beauty and style to your reception area with a "standing order" for fresh flowers or seasonal blooming plants. Schedule a floral delivery on any basis you'd prefer: weekly, bi-weekly or monthly.
Put us to work for you! Contact us at (920)738-4500 for more information and references from satisfied clients.